Terpan, Partner of the Solibus Tour
The student association ISC Solirace organized this year again the Solibus Tour.
It is a road trip through France and Europe in order to meet 15-25 year olds and to raise their awareness about the risks linked to AIDS and STIs (Sexually Transmitted Infections).
In each city, prevention actions (distribution of condoms, practical information, discussions with young people) are organized in a public place but also in high schools, schools… During the whole month of April, the Solirace association diffused its messages always of topicality everywhere in France. Don't hesitate to come and visit them when they pass near you.
The Solibus Tour in its 2016 tour passed by:
Lille: April 17
Brussels: April 18
Nancy: April 19
Geneva: April 20
Grenoble: April 21
Monaco: April 22
Avignon: April 23
Toulouse: April 25
Bordeaux: April 26
Paris: April 27
These events reach every year nearly 40 000 students and more than 20 000 condoms are distributed.
This year is the third edition of this adventure. Follow Solirace on #Solirace or #safesexgetlatex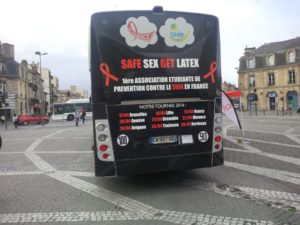 Terpan, a major player in prevention and risk reduction, is once again a partner of the Solibus Tour!