Adopt the FC2 female condom
The FC2 female condom
Previously tested with electronic machines, each FC2 female condom is designed to adapt to the anatomy and particularities of each woman.
Characteristics of the female condom FC2
The FC2 is at the same time a sure means of contraception, an effective protection against the STI and an amplifier of pleasure. Long of 17 cm, this condom follows effectively all the quality standards of the WHO and the FDA. Its particular design often even allows to offer more pleasure to both partners.
It can be used by women and even be put on the penis of a man intolerant to latex condoms. Women who have just given birth or are menstruating can also use it to avoid infection or premature pregnancy.
How to use the FC2 female condom?
Easy to put on, it is also silent during the act, it is enough to make sure that it is correctly set up in order to maximize its effectiveness. Tested in many countries by both women and men, the FC2 fits effectively with all types of penis and vagina anatomy.
This female condom can be associated with other means of contraception. It can be placed a few hours before intercourse, just be sure to place it outside the urethra before urinating. You can also add more lubricant if you need it.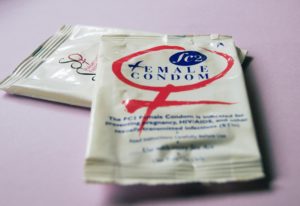 Notes :
Note, however, that simultaneous use of a female condom and a male condom is not recommended, nor is anal use.
You probably have other questions. You should know that there are several organizations such as Terpan Prevention that can help you with these intimate choices. It is normal for couples to be reluctant to talk about this, as it is a sensitive and private subject.  Nevertheless, on such an important subject, it is wise to turn to organizations or platforms that can advise you and help you in your choices of intimate protection.
Feel free to refer to the following documents for more information and to see the installation diagrams:
How to use the FC2 female condom
All about the FC2 female condom
Poster instructions for the FC2 female condom
Discover our range of female condoms