Prevention at the Interceltic Festival
Terpan Prevention, historical partner of the Lorient Interceltic Festival.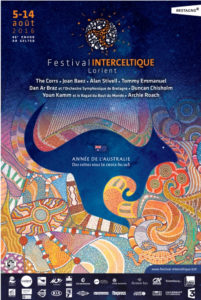 The Lorient Interceltic Festival in a few figures
From August 5th to 14th, the 46th Lorient Interceltic Festival will be held.
This event attracts each year more than 750,000 festival-goers, and it is in an atmosphere of celebration and music that the Celtic soul takes hold of Lorient.
With 12 stages, 4500 artists, 200 concerts, this festival marks the Breton summer with its cultural imprint. During one week, 1200 volunteers will ensure the smooth running of this festival.
Prevention close to the festival-goers
Among them, a dozen volunteers will spread prevention messages about the risks linked to the party. Alcohol, Sexually Transmitted Infections, noise pollution, all messages that will allow festival-goers to enjoy this week of festivities with peace of mind.
Partner for several years, Terpan Prevention has chosen to support these volunteers, and for this new edition will provide prevention products (condoms and intimate gel).
For this occasion, it will dress its Smile condom in a free pouch with the Festival colors. Do not hesitate to visit them, you will recognize them with their special Smile tee-shirt for the Lorient Interceltic Festival.
Every year, Terpan Prevention produces dozens of personalized bags. This allows the greatest number of people to have free access to the safest way to protect themselves from sexually transmitted infections, and allows prevention workers to spread their messages right up to the threshold of intimacy.